| | |
| --- | --- |
| | Welcome to Puerto Rico! |
---
Puerto Rico is a modern progressive and civilized vacation spot that maintains the charm and hospitality of days gone by. Many of its towns still maintain the Old Spanish traditions handed down through over 500 years of history, while providing many of today's modern conveniences. Though Spanish is the native language; most Puerto Rican's are quite comfortable with the English language also.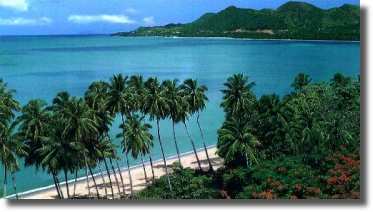 This island offers miles of soft white and golden sand beaches; beautiful mountains and valleys; fantastic sunsets, and other natural wonders.

For the vacationing family, the western portion of this beautiful caribbean island offers quiet surroundings; uncrowded beaches; affordable lodging; great restaurants; convenient shopping and recreation; and beautiful unspoiled mountain scenery. Unlike the northern San Juan district, this portion of the island is serene; with no hotel strips or large crowds. But a visit to this U.S. Commonwealth is not complete without a day visit to Old San Juan, where Old Spanish architecture and style is preserved for everyone to admire.

---
So welcome... pull up a comfortable sand chair; bring your piña colada or other favorite drink; and experience the warm beaches and beautiful sunsets of...





In cooperation with...
The Puerto Rico Tourism Company.

Click Here to see our available vacation rentals.
---
Copyright © 2003 Property Resources West, Vacation Property Services - 1(888)PRWESTV