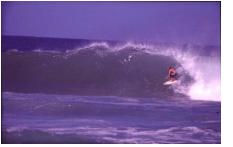 Puerto Rico is one of the top five surfing spots in the world. Due to its ideal location, Puerto Rico benefits from storms, cold fronts, and low pressure areas to provide good waves almost year round. Surfing season in Puerto Rico starts in October and ends in mid-April. The month of May may bring some ocassional swells, but not as consistent and good as the normal season period. Hurricane Season starts in August and lasts 'til early October, so there is a chance of encountering some waves all year round.

The best and most consistent surf areas in Puerto Rico are the north, northwest, and west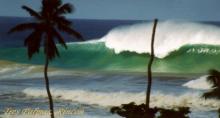 coasts of the island. The are also some good surf spots in the south which appear during the summer time (June-September) like La Escuelita, Inches and others. Some of the most famous spots around the island are: Gas Chambers, Chatarra, Tres Palmas (Rincon), Aviones, Marias, Table Top (Aguada), Shacks Beach (Isabela), and Hollows, but the island actually has well over 60 breaks. A good amount of the breaks are reef breaks so expect some sea urchins on places like Marias, Wilderness, Middles, Dogmans, Surfers Beach, Aviones, and some other spots.

Although most breaks are reef type, Puerto Rico is a relatively safe place for surf. The usual first aid stuff will do, specially band-aids for small cuts. But remember, be 'Reef Wise', the danger increases exponentionally with size; especially at low tide. Another big issue, one that's most dangerous for inexperienced surfers, are riptides, which also get more dangerous with size. These two are the most serious dangers in the island. Places to watch for rips are: Jobos, Wilderness, Marias, and Surfers Beach.

Our surfing services providers are avid surfers with families who have visited every location we offer to give you first-hand knowledge of all the best surfing areas in Puerto Rico. Our experienced staff offers you the best price, plus friendly service and advice for either the seasoned surf traveler, the novice, or a family or group.