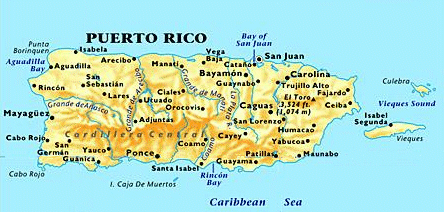 Puerto Rico (Vital Statistics)
[Span., (= (rich port], officially Commonwealth of Puerto Rico, island (1994 pop. 3,802,000), 3,425 sq mi (8,871 sq km), West Indies, c.1,000 m (1,610 km) SE of Miami. It is a self-governing entity in association with the U.S. The capital is SAN JUAN; other urban centers include BAYAMóN, PONCE (second largest city), Carolina, and Caguas.

Its west coast is dominated by the city of MAYAGüEZ (third largest city). Christopher Columbus' first landing in 1493 occurred at the shores of the island's northwestern coast. Two governing districts manage the courts, law enforcement, permits, and public works. The district offices are located in Aguadilla and Mayaguez. Aguadilla coordinates the municipalities of Aguadilla, Aguada, Rincon, Isabela, Moca, and San Sebastian. The district offices in Mayaguez coordinate the municipalities of Anasco, Mayaguez, Cabo Rojo, Guanica, San German, Maricao, and Las Marias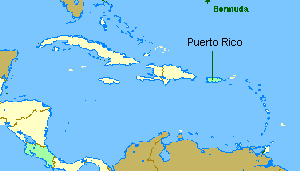 Easternmost of the Greater Antilles, it is bounded by the Atlantic (N), the Caribbean (S), the Dominican Republic (W), and the Virgin Islands (E). Puerto Rico is crossed by mountain ranges, notably the Cordillera Central, which rises to 4,389 ft (1,388 m). The climate is tropical. Sugarcane was long the chief agricultural product, but livestock and dairy production have surpassed it in importance. Coffee, tobacco, and fruits are other leading crops. The population, however, depends chiefly on industrial employment; the manufacture of machinery, chemicals, pharmaceuticals, textiles, electronic equipment, and plastics, as well as oil refining, are important. Tourism is also a major source of revenue.

Puerto Ricans share the rights and duties of U.S. citizens, except that they do not pay federal income taxes and do not vote in national elections (unless living on the mainland). The Puerto Ricans are descended from Spanish colonists, with admixed aboriginal native and African strains. Spanish and English are the official languages, but Spanish is predominant.
Puerto Rico (History Brief)
When COLUMBUS arrived in 1493, Arawaks lived on Puerto Rico, which they called Boriquén or Borinquén. PONCE DE LEóN, the island's first governor, named the island after St. John the Baptist (San Juan) and began the conquest in 1508. Sugar and coffee plantation culture was introduced shortly thereafter. African slaves were later brought in to replace the annihilated Arawaks as workers in a growing sugar and coffee plantation culture. The strategic northern port of the island, called Rich Port (Puerto Rico), was later renamed to San Juan. The island itself was renamed Puerto Rico, taking on the name of the original northern port. San Juan later became the island's capitol city. It was fortified over time against continued attacks from Dutch, French, and British naval forces.

In the 19th century (400 years later), popular unrest led finally to the Spanish Crown granting some autonomy to the island in 1898. After the SPANISH-AMERICAN WAR of 1898, Puerto Rico was ceded to the U.S., which quickly set up an administration under an American governor. Meanwhile an independence movement grew. In 1917 Puerto Ricans were granted U.S. citizenship. As U.S. holdings in the one-crop sugar economy increased, large corporations encroached on land that had been used to grow subsistence food, and the subsequent economic distress was not relieved until World War II.

After the war, Operation Bootstrap, encouraging American industrial investment with tax incentives, began to change the nature of the economy. The first Puerto Rican Governor (Luis Muñoz Marin) is elected in 1948 by popular vote. In 1952 the Commonwealth of Puerto Rico was proclaimed. Nationalist agitation continued, however. By the 1960s statehood advocates and supporters of continued commonwealth status held power alternately, while advocates of independence eschewed the electoral process. In 1992 Pedro Rosello, a statehood advocate, was elected governor, but voters chose commonwealth status by a narrow margin in a 1993 referendum.

Ref: Puerto Rico (History) (Encyclopedia.com)

Return to Home Page