| | | |
| --- | --- | --- |
| | Puerto Rican Cuisine | |
---

First in a series of articles on Puerto Rican Style Cooking -- Buen Provecho!

Main Dishes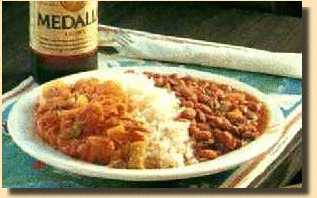 Puerto Rican cuisine is as eclectic as it is varied. Local food has earned a reputation it most decidedly does not deserve for being hot, fiery and spicy. In actuality, although it is prepared with a multiplicity of richly varied spices and condiments, Puerto Ricans tend to season their food more subtly than one might imagine.
The aroma that wafts from kitchens throughout Puerto Rico comes from adobo and sofrito, blends of herb's and spices that give many native foods their distinctive taste and color. Adobo, made from crushing together peppercorns, oregano, garlic, salt, olive oil, and lime juice or vinegar, is rubbed into meats before they are roasted.
Sofrito is an aromatic and well seasoned sauce made from pureed tomatoes, onions, garlic, sweet red chili peppers, cilantro, and colored with achiote (annato seeds), which imparts the bright yellow color to the islands rice, soups, and stews.
Native Caribbean flavors are evident in the majority of Puerto Rican recipes. The most popular dinner dishes are stewed meats, rice and beans, and an enormous selection of fritters, and desserts made from local fruits and vegetables.
Platanos (plantain bananas), seem to be the most popular side dish served on the island. Plantains are a variety of banana that cannot be eaten raw. They are harvested while green and then baked, fried, or boiled.

Desserts and Drinks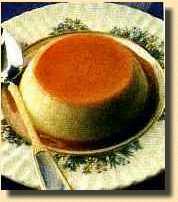 Desserts usually include some form of flan (custard). Equally traditional would be a portion of guava jelly or paste with white cheese. Chefs take the bountiful harvest of Puerto Rican fruits and create any number of desserts. The pumpkin, which grows in abundance on Puerto Rico, is used not only to flavor soups and as a side vegetable, but also to make the succulent base for a traditional Puerto Rican cake. Coconut is probably the most common dessert ingredient. Many delectable desserts are made with its milk, along with a classic preparation of coconut bread pudding.
Finish your meal with strong, black, aromatic Puerto Rican Coffee (café); served espresso black or generously served with hot milk and sugar. Rum (Rón) is the national drink, and you can buy it in almost any shade. Each bartender worthy of the profession in Puerto Rico likes to concoct his or her favorite Rum libation.
Come experience Puerto Rican dining at its best, visit Puerto Rico!
Additional information on various recipes and culinary delights can be found by visiting
The Puerto Rican Hall of Fame, recipes section

For lodging information, call toll free 888-779-3788, or send eMail.
Please visit our Home page for a list of Vacation Rental Properties.

Copyright © 1999 Property Resources West, Vacation Property Services - 1(888)PRWEST-V